Eskimo Callboy – The Scene (Album Review)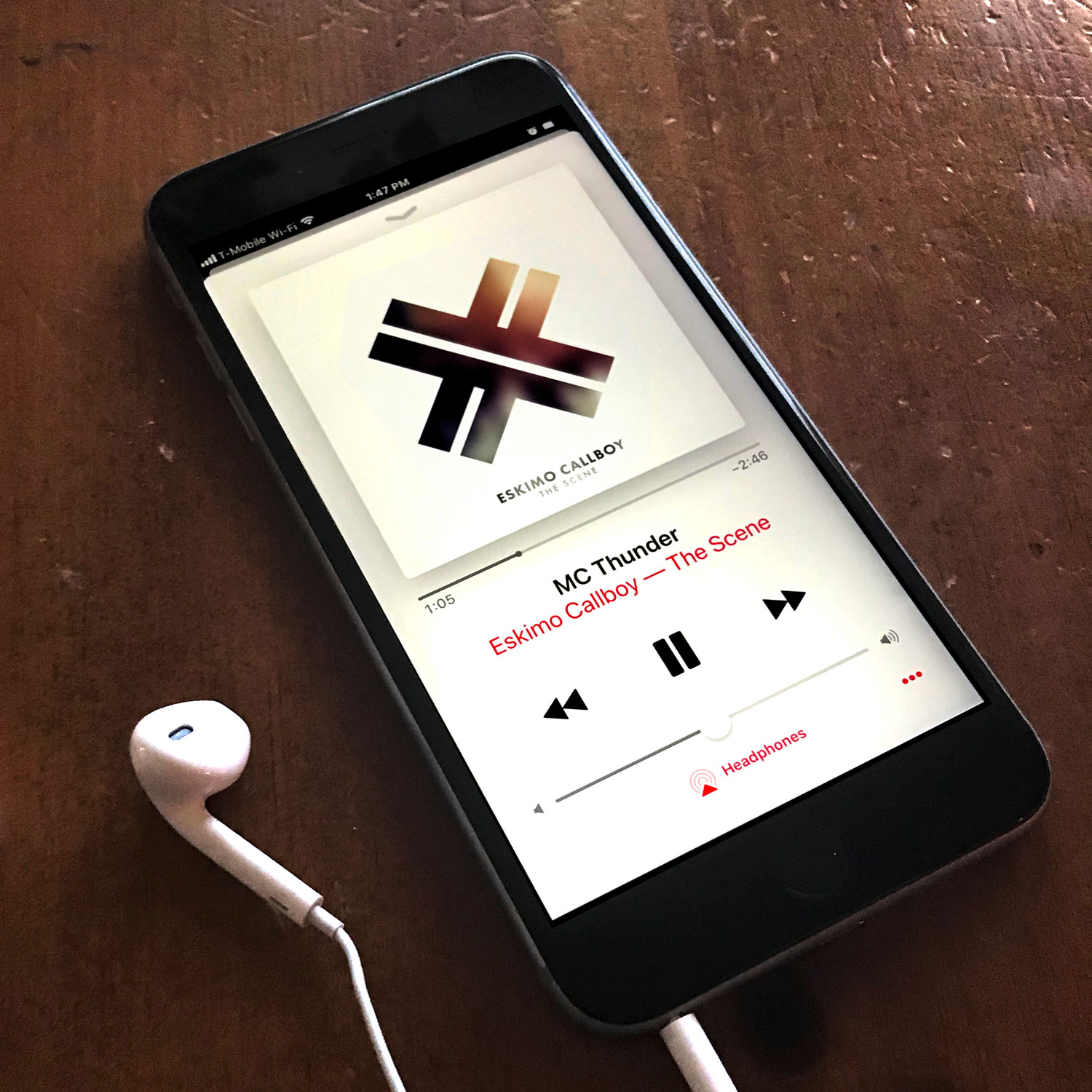 ​​Here I am again with another album review. This time, I'm excited to give my thoughts on the Eskimo Callboy's latest effort, The Scene, recorded independently under exclusive license to Century Media Records. Who is Eskimo Callboy, you may ask? According to their Facebook, Eskimo Callboy is an six-piece Electronicore band reigning from Castrop-Rauxel, Germany. Although, the band is not well known worldwide, Eskimo Callboy is quite popular in Germany, being one of the few metalcore bands in their native county.
The Scene is quite an extraordinary album, not just by the sound, but for the band. It is Eskimo Callboy's fourth album and the first album to be released independently under a record company. What does this mean? Basically the band was able to write and record their own material and Century Media Records agreed to distribute the release. Because The Scene was released in this way the band was given more creative freedom than their previous releases. Although, I would argue that Eskimo Callboy has generally had a fair amount of creative freedom, their last album Crystals had a more streamlined sound. The Scene is much more raw, and in turn, more honest Eskimo Callboy. Long story short: most of the songs are party songs.
So, how does Eskimo Callboy's fourth entry sound like? Well basically what they've always sounded like: thrashing metalcore smashed together with electronic dance. Eskimo Callboy is one of the few bands that actually understand how to seamlessly integrate these two genres. Whereas other bands such as Asking Alexandria with their minimal electronic melodies and Attack Attack! with their electronics coming off as "try hard," just feel like they were chasing a trend. Eskimo Callboy come off as genuine in their sound.
Again, I will put this out there. Most of the albums that I cover will mostly likely not be appealing to listeners looking for that straight-cut genre sound. This album is no different. The Scene is at its basic level an Electronicore album which blends electronics and metalcore (what is Electronicore?). If you don't like one of these genres, you will most likely not like this album. With that out of the way, let's move to the track-by-track.
Track-By-Track Review
Back In the Bizz (5/5) – What's the best way to start a metalcore album? If you answered with "as heavy as possible," then you got the right idea. This is the perfect mosh pit song. From the "We don't give a f**k! We are the German nightmare!" Punk attitude lyrics to thrashing guitar breakdowns, this is one of, if not the most energetic song on the album.
MC Thunder (4.5/5) – Second single in promotion for this album. Between this song and the first single, I thought this song was pure Eskimo Callboy. It's a song about stealing a Cadillac and driving around, what's not to like? And if you get offended from that statement, 1) Eskimo Callboy songs are many times actually jokes and 2) maybe you shouldn't be listening to said band. Instrumentally, this song isn't the most complex song, but it's catchy and the chorus melody is bound to get stuck in your head for days.
The Devil Within (4/5) – This is the first non-party, non-funny serious song on the album. Most of the time, I won't mention anything about the production on albums, but I felt that this song had some weird mastering on the vocals. Almost so much so that I found some of the vocals to be unpleasant to the ear. Though if you can look past that criticism, The Devil Within is a solid song. It works as a more heavy ballad-like song and gives Eskimo Callboy some grounding offsetting their over-exaggerating party tracks.
Banshee (5/5) – One of the best songs on the album. Lyrically, this song is more inline with the previous song, but musically this track is really good. This is one of the best examples of combining electronic synths with hard-hitting guitars. This is a truely enjoyable song.
The Scene [feat. Fronz] (3/5) – Now this was he first single chosen for this album. This is also the first song to have a feature, this one being Fronz from Attila. Regardless of what you think of the band Attila, Fronz really isn't in much of this song so I find that the argument of "I hate Attila" to hate this song is a mute one. I don't think this is a bad song per say, but it definitely isn't a strong one. I just remember first hearing this single and not really digging the verses. I just really didn't like the way the chorus was mixed either finding the scream vocals to be far more annoying. If anything Fronz, for me, was my favorite part of this song.
V.I.P. (4/5) – I realise that this song has very little metalcore in it and that it's much softer than most of the album. However, with that said, this is actually a pretty solid rock song. I don't know why so many metal fans are so quick to shoot down slower songs but I think they should give this song a chance. It's basically Eskimo Callboy's version of Nickelback's "Rockstar," at least lyrically.
Shallows (4/5) – This is one of the heavier songs on the album. I don't know, if there's much that's unique to this song. It's pretty much a hard metalcore song with some electronics. Not much else to say.
Nightlife [feat. Little Big] (4.5/5) – How do you combine dance with metalcore successfully? Look at this song. I love the female dance vocals saying "we won't stop stop stop" which becomes a little reminiscent of the Miley Cyrus song, and the club-like attitude of the lyrics. This song was a definite highlight. This is the second song to have a feature, and that is to Little Big, the Russian rave group. If you are not used to their vocal style, you may be put back a ways, but personally I don't think it ruins the song.
X (2/5) – I don't have anything against this track but I don't know if I could call it a song. It's basically a one minute intro preceding the next track "New Age." I don't think this a bad track but I find it difficult to justify this being a standalone track.
New Age (4/5) – Alternative radio song, anyone? For one who enjoys experimentation, I don't mind this sound on the album. But for one only looking for metalcore heavy songs, this may be a disappointment.
Frances (5/5) – May I present the ultimate Eskimo Callboy love song: it has the formation of a ballad but still has the edge to be heavy. I found the chorus melody to be not only emotional but also catchy. Definitely a standout on the album.
Rooftop (5/5) – On Crystals, the rap song was Paradise In Hell. On this album, Rooftop takes that place. Rooftop is a pleasantly invigorating song with lyrics being, oh so Eskimo Callboy. Everything from "Shopping carts full of gold bars" to "My crib's bigger than Wayne Manor" further boasts the band's ability to not take everything seriously and have fun. This is a personal favorite on the album.
Calling (3.5/5) – I found this song to be just okay. I know what the band was trying to do with this song, making a large anthem song they could play to close a show. It certainly has that sing-a-long, repeating chorus down. Personally I felt this song went on for a bit too long and just felt a little uninspired. It wasn't horrible, but it wasn't amazing either.
The Devin Within [Acoustic] [feat. Tobias Rauscher] (4.5/5) – Here is an extra bonus track only available, as far as I could find, on digital stores. It is very much a straight acoustic guitar version of the original song. The guitar is played by Tobias Rauscher, a well know German acoustic guitar player. It's a nice addition to the album, but it is clear that it's a an addition and not part of the full album.
Track highlights: "Back In the Bizz," "MC Thunder," "Banshee," "Frances" and "Rooftop."
Worth a listen?
If you've ever wondered what dance and metalcore's baby would be, this would be it. Very few bands are able to seamlessly blend genres together. If you like mashed up genres or are just curious about what mashed up genres sound like, I would suggest you give this album a try. Especially if you like metalcore with experimentation. If you're looking for that straight metalcore album, I can't really suggest this album for I find you may find it disappointing.
Music Sample
Album Links