Taylor Swift – reputation (Album Review)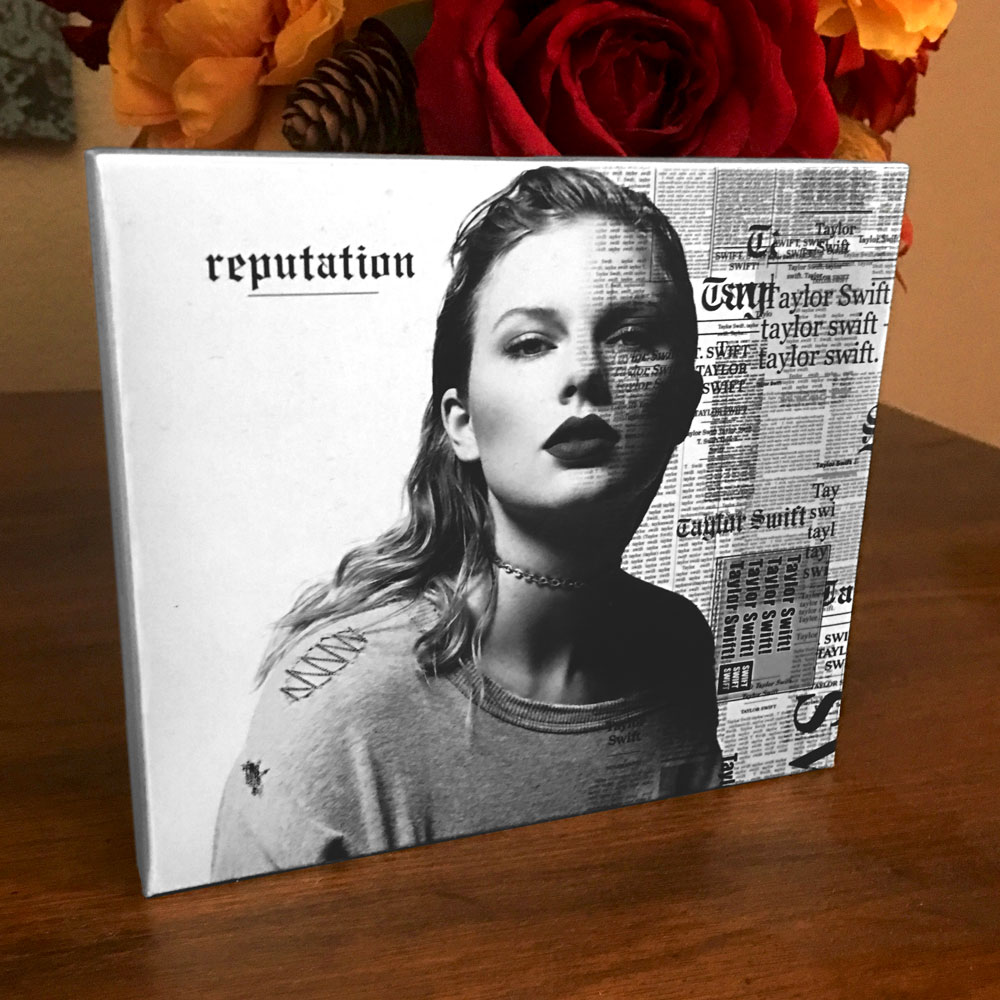 Those of you may recall that I Scream I Scream has made it a point to review mainly electronicore albums… So why is there a Taylor Swift album review on I Scream I Scream? Well, my favorite genre may be electronicore but I also tend to enjoy pop music. Before you metalheads start raising your pitchforks, there are many metal bands that have pop influences. I mean, if you stop and think about what 'pop' really means, it's any genre of music that's popular. I know, for a fact, that Linkin Park, one of my favorite bands, attributes pop music for its catchy choruses. With that out of the way, after hearing the single "Look What You Made Me Do," I was intrigued.
For those of you that don't know, and honestly I'd be surprised if you didn't, Taylor Swift is a once country singer turned pop. She has released six full-length albums including her latest reputation album, all of which were released on Big Machine Records. Her first four albums were, in their majority, country with her most recent albums being straight pop. What makes reputation different from her last effort 1989, is that this is her first angsty record according to Billboard. I will agree that Taylor Swift meant for this album to be a rebellious album. Unfortunately, I find the album to not be rebellious enough. Keep in mind, I've listened to many angsty albums in metalcore and punk, and compared to those albums, I found reputation to be quite tame.
I think it's time to bring up an unfortunate drawback for this album. As Vox was quick to point out, Taylor Swift's new album is currently only available to buy on iTunes and on physical CD. The only way to currently stream the album is to listen to it on iHeartRadio. There is no way to listen to this album on Spotify, Apple Music or even Google Play Music. I find this to be most unfortunate, since I found reputation to be a pleasant-to-listen-to pop album. I would think that this move would hurt sales, but apparently that is not the case. Join me as I review a pop album from the perspective of an electronicore enthusiast.
Track-By-Track Review
​…Ready For It? (4.5/5) – ​So this is not what I expected to hear when starting a Taylor Swift album. "…Ready For It?" Begins with a droning distorted bass synth ultimately collimating to a trap drum rap inspired beat. Taylor starts this rap-like singing in the verses and transitions to a catchy chorus overlaying some melodic synths. I would say that this song would have a major surprise if I hadn't first heard her first single "Look What You Made Me Do." This song seems to take a lot of inspiration from that song making this song seem less special. Overall enjoyable song and good album opener.
​End Game [feat. Ed Sheeran & Future] (3/5) – ​How can we sell more copies of an album? Oh I know! Feature two really famous artists on a song. This is that song. Ironically my least favourite part of this song is Taylor's rap/chant of "big reputation." Both Future and Ed Sheeran do a good job on their assigned verses. This song just sounds as if it was put together by corporate to make profit.
I Did Something Bad (5/5) – ​​Favorite song on the album. Yes, I like this song better than the lead single. I love the buildup from the verses to the chorus and this song is so damn catchy. I like the vocal sampling that happens after the chorus and the "they're burning all the witches" bridge is truly a standout on this album. I don't care what people say about the auto tune on the bridge vocals. I say that it adds stylistic flare to the song.
Don't Blame Me (4.5/5) -​ ​This song has a unique gospel vibe, which is actually fitting since the end of the song actually features gospel singers. The verses and pre-chorus are catchy and enjoyable, and I especially love the melody when she sings "every time you're loving me." It was really cool to hear Taylor Swift's ad-libbing gospel near the end of the song.
Delicate (4/5) – ​​​This is the first 'slow' song on reputation. The beginning vocal effect on this song reminds me of an old Breathe Carolina song. Tell me it sounds similar! This song is nice but not that experimental. I would listen to this if it was really late at night and I just wanted to relax.
Look What You Made Me Do (5/5) – ​​Well, here we are. The lead and first single released for this album and you know what? The production on this song is simply amazing. It's easily steps over the previous tracks, and I thought those sounded great. After listening to this, there is no mistake; this song is no doubt he best song on the album. It's the catchiest and the most fun to listen to. This song was the catalyst of what led to this album.
So It Goes… (3.5/5) – ​​​Can you say auto tune? All jokes aside, the auto tuned verses are my favorite part of this song. The chorus is okay… it reminds me a bit of some of the songs of Hey Violet's "My Consequence." I don't think this song's as good as the previous tracks, but it still fits the album.
Gorgeous (4.5/5) – ​​​What is with musicians using babies voices in songs? Like seriously, there is a baby saying 'gorgeous' to start the song. Once you get past the random baby vocal, this song is actually a pretty good pop song. Though, I feel that this song is a little too happy for this album. It does still keep up the rebel album image but it just seems a little out-of-place.
​Getaway Car (3.5/5) – ​​​The Breathe Carolina vocorder vocal returns!! Unfortunately this song is bubblegum pop. What I mean is that this song doesn't take any risks and as a result comes of as a little boring. It's got a "Love Story" sound to it, but that really doesn't fit this album that well. I thought you said the "old Taylor is dead," so why is this song on this album?
King of My Heart (2.5/5) – ​​​What happened to this album? This song is electronic, but the melody sounds like boring pop. Now I don't consider all pop to be boring but this song is so generic it could've been called 'pop song' and it wouldn't have made any difference.
Dancing With Our Hands Tied (4/5) – This is what I am talking about. I like the half step rhythm of the chorus and the vocal melodies are perfect. I could feel this kind of sexy/chill vibe from this song. Thumbs up.
Dress (3.5/5) – ​​​Another slow song, but it's okay… it's good! I love the "ah ah ah" having this song a sex fantasy vibe. It's nice to hear a song by Taylor Swift talking about sexual curiosity. This only line that I questions about is "I want you like your best friend."
This Is Why We Can't Have Nice Things (5/5) – ​​I ​love this song. It's like the most passive aggressive song ever pointing out another person's bad relationships. Also I love how Taylor cannot help but laugh after talking of forgiveness. This is probably the most b*tchy Taylor Swift that we'll ever get and it's great.
Call It What You Want (3.5/5) – ​​​This was the third and last single that was released for the album. In my opinion, this is the weakest of the singles. Then again this is yet another slow song. As someone who listens to metal, I have a limit of around two slow songs per album, anymore and I start to get bored. This song is funny because she says that she is her lovers property but not her property. It's full of contradictions. "I want to wear his initials on a chain around my neck, not because he owns me but because he really knows me." Okay Taylor, I believe you.
New Year's Day (4.5/5) -​ Yes, this is yet another slow song. But this one is brimming with emotion. I just love how minimalistic and raw this song is: no drums, just piano, acoustic guitar and some synth pads at the end. This song will never be a hit, but it probably hit my heart strings harder than any other song on this album.
Track highlights: "…Ready For It?," "I Did Something Bad," "Don't Blame Me," "Look What You Made Me Do," "Gorgeous," and "This Is Why We Can't Have Nice Things."
Worth a listen?
​This is one of the best pop albums I've heard all year. I think that this album starts off incredibly strong, but loses itself around halfway until picking itself back up towards the end. As a pop album, reputation fares well incorporating many unique elements not seen in many pop albums. However, as a rebellious album, reputation feels like it's trying too hard to be angsty when Taylor just isn't that rebellious. I can say that I am glad that this album doesn't feature many breakup songs. If you're a fan of pop or Taylor Swift, I recommend you pick up this album.
Music Sample
Album Links