I Scream I Scream Success and Future
It has been an interesting journey starting I Scream I Scream Music Reviews. This site started out as a school project and it's safe to say that it has now transformed into a passion. I have enjoyed offering my take on various albums and despite the hard work required for each review, I don't regret the final product. After 10 articles, it's time to review the most successful posts and learn how I can gain further interaction.

The image above displays I Scream I Scream's Google Analytics. As seen above in Google Analytics, the I Scream I Scream does not get many direct clicks on Google. However, the site is showing up in user's search results and will even more in December. Let's take a look at which blog posts had the most engagement in Google Search.
Google Search Analytics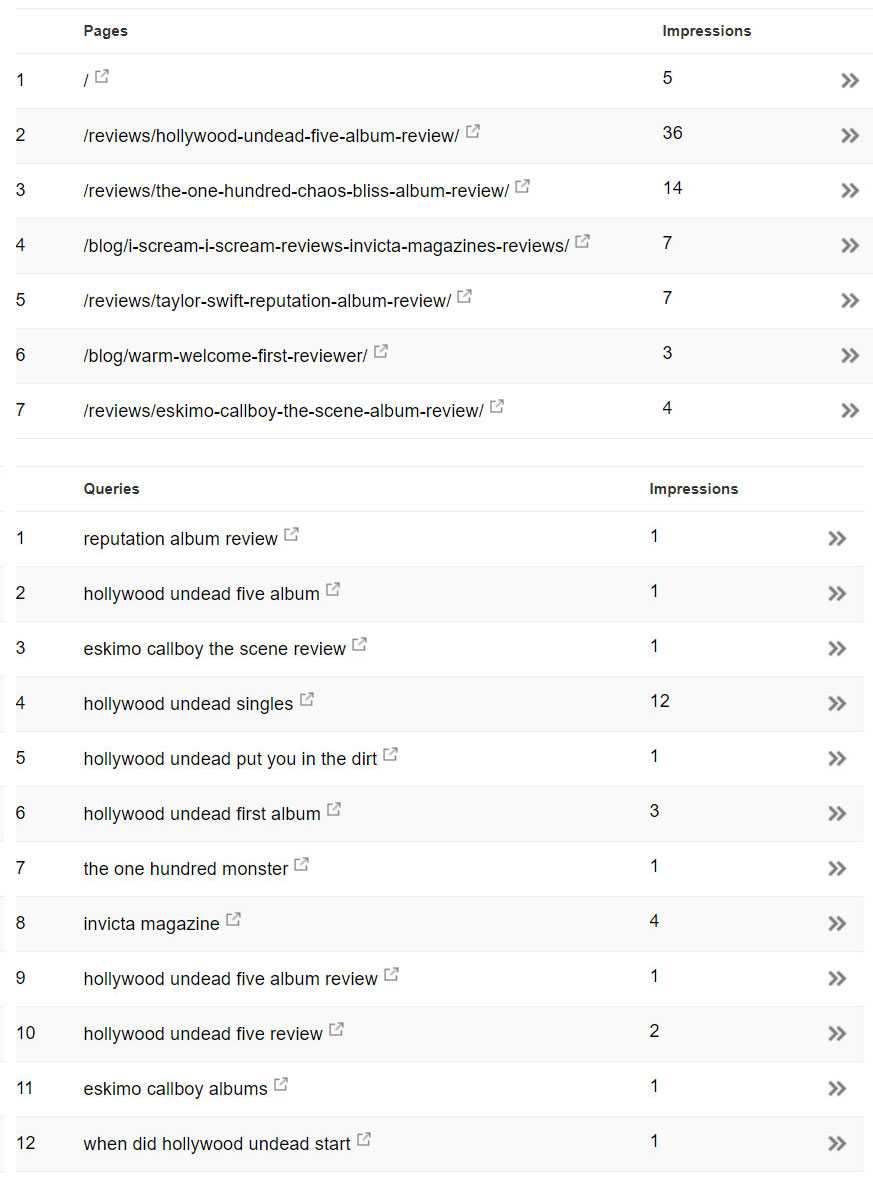 On the right, you can see my most popular post received with 36 impressions. It was the album review for Hollywood Undead's Five, which I will show it to be the most popular album review later in the Twitter Analytics . In second place, is the The One Hundred's Chaos & Bliss album review. After that, the impressions start to fall. What I find most interesting about the "Queries" (or "Searches") section, is that it shows what people searched on Google to get to the I Scream I Scream website. Seen here, the most searched query was "hollywood undead singles" followed by "invicta magazine."
So why is any of this information important? First of all, the Hollywood Undead album review was posted less than a day after its release. So album reviews posted very close to the album release window receive better traction and more views. And because "invicta magazine" rated the next highest, I should either review more album review site's reviews or I should get involved with other album review sites.
Twitter Analytics
Twitter Analytics is where my analysis gets interesting. In this graph, we can see what my most popular week was: October 22-28. This corresponds to the same week when I posted both the Hollywood Undead album review and the Invicta Magazine review, both of the highest Google Search results.

Twitter Top Posts
Now that we know my most searched blog posts, what about the interaction on Twitter? It would seem that October 22-28 was loaded with interactions.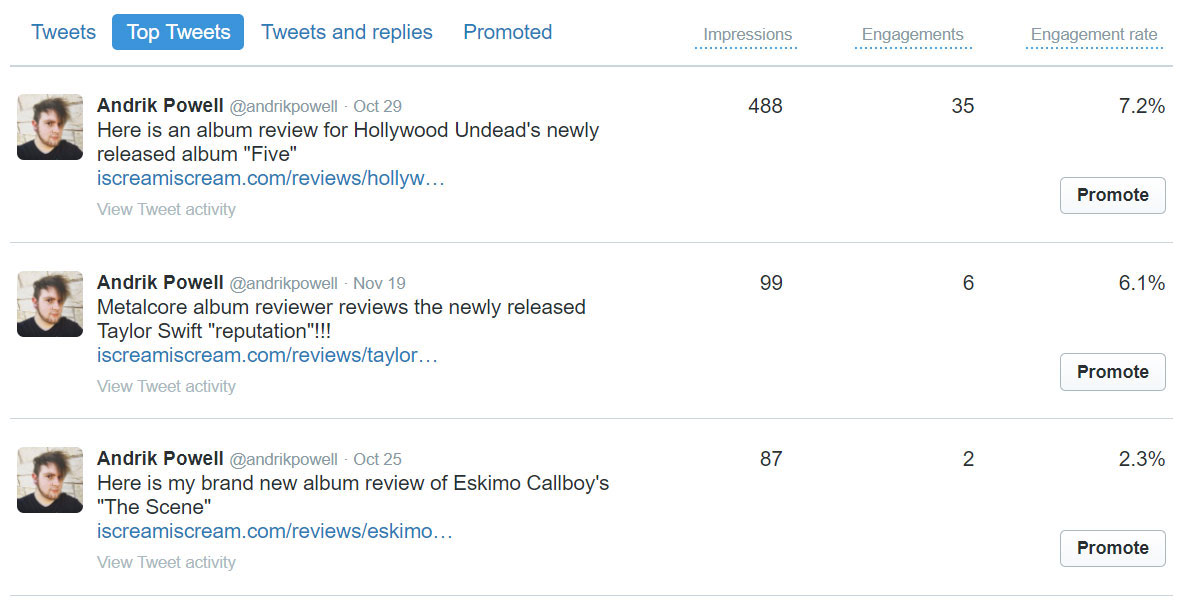 I Scream I Scream's Hollywood Undead twitter post was retweeted twice, including a retweet by the official Hollywood Undead fanpage. The post also received 8 likes combined with the retweets. It make's sense why this blog post was most popular since it was the only one whose Twitter posts were retweeted.
What was surprising to me, was how popular the Taylor Swift and Eskimo Callboy album reviews were on Twitter but not on Google Search results. This just goes to show that Google Search doesn't tell us everything.
The Future
Let me clarify that I only enabled Google Analytics for I Scream I Scream prior to this blog post, so I don't have as much information as I would have preferred. However, the information acquired both from Google Search and Twitter has been invaluable. I learned that social networks are great at getting traction. With other accounts sharing your posts, your post will get more views. I would like to continue writing album reviews, but I have been considering moving from a blog format to a YouTube video format. Video keeps audiences attention far more than a block of text. I hope to continue writing for I Scream I Scream Music Reviews and I encourage my readers to keep spreading the word of I Scream I Scream. As long as there is still talk, I Scream I Scream will never die.
Follow me at