Deuce – Invincible (Album Review)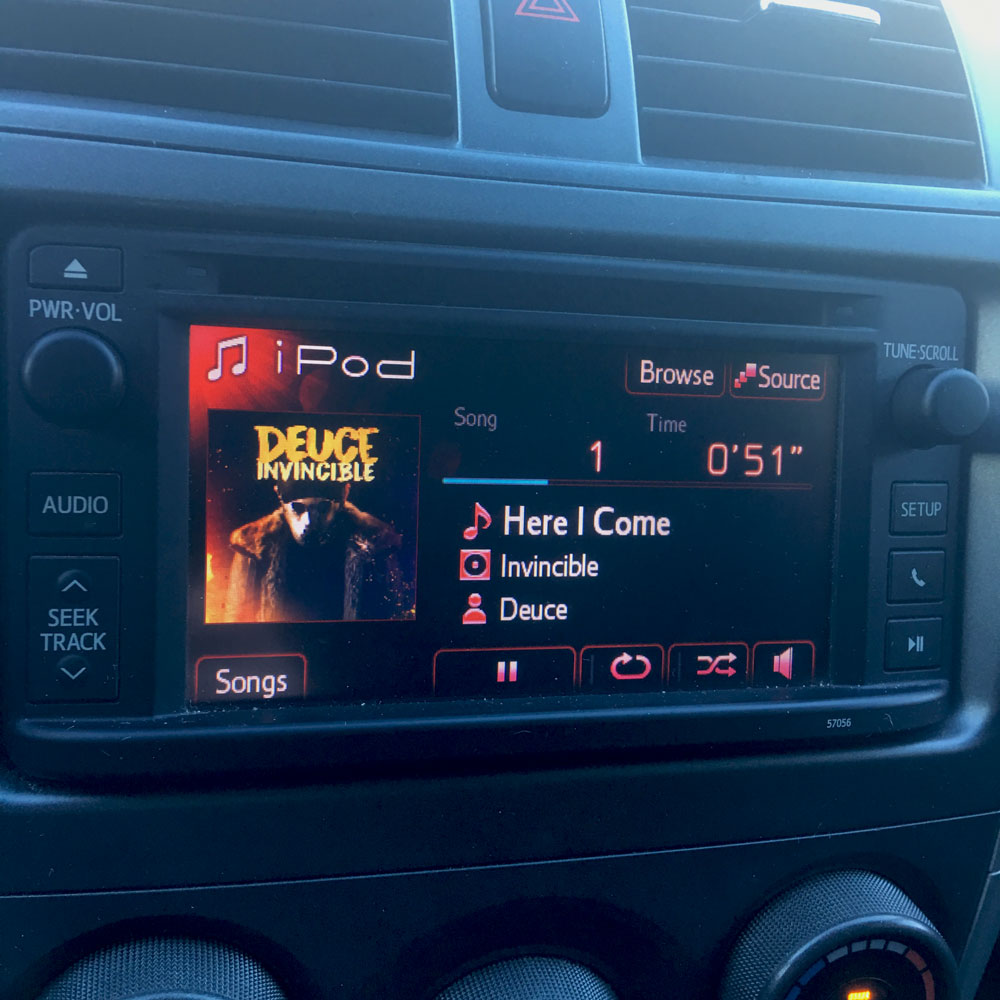 I'm going to be completely honest. When I heard that the new Deuce album Invincible was releasing this month, I wasn't too optimistic. For one, I had already heard all the songs from the 2015 edition of Invincible, posted by Deuce before he took it down (don't believe me?), and I wasn't really that impressed. I'll be the first to admit that I actually liked Deuce's Nine Lives. Although it was a little different from when he was in Hollywood Undead, Nine Lives was closer to Swan Songs than Hollywood Undead's newest release American Tragedy. Deuce was able to recapture that original Hollywood Undead sound, and therefore built a following off that.
In October 2017, Deuce released the first single off the album "Here I Come," with the two other singles "Bitch This Is It" and "World On Fire" following. After hearing some of these new tracks, I was intrigued. Two of these singles had more of a hip hop influence than the previous songs and that made me hopeful for a worthy successor to Nine Lives.
So here we are in 2017, with Invincible finally being released on Better Noise Records. This new edition of Invincible included half of the tracks that were on the 2015 edition, with the other half being completely new content. Most of these new tracks show up as the first five tracks with two others being scattered between the older tracks. Invincible takes a little bit of a departure from Deuce's last effort, in that it is more rock influenced rather than the heavy rap influence of Nine Lives. Let's see if Deuce's Invincible was worth it's two-year wait…
Track-By-Track Review
Here I Come (4.5/5) – ​This is the lead single of the album and it does well being that. The choir vocal fits well with the guitar giving the song an epic sound. I don't think this is an amazing song but it is catchy and one of the better songs in the album. The only criticisms I have are the second rap feels too simple and lazy and, just as usual, Deuce drops f-bombs like it's his favorite word. So much so that by the end of this album, a listener is bound to be desensitised by the word.
​​Hell's Gonna Break Loose (2/5) – So this song features another vocalist that isn't named on the track. I'm not the biggest fan of his vocalist and he's featured almost on the entirety of the track doing backup vocals in chorus and doing all the screams. Now, I wouldn't have a problem with with screaming in this song, but this other vocalist's screaming is just not good. Also in this song, Deuce says he's gonna "rape you" and uses the phrases such as "I blow it up like the World Trade Center" which just come off as tasteless.
​Bitch This Is It (4.5/5) – Probably the catchiest song in the album. This was the second promo single for this album and has some of the best rapping flow on this album. The melodies are catchy and get stuck in your head. Unfortunately, I couldn't give this song the highest grade after my brother said that this song uses the same melody of "Carol of the Bells," in which my brother is completely correct.
​Gone Tomorrow, Here Today (5/5) –​ ​​Best rock song on the album. Quite an enjoyable song overall. Doesn't really sound like Deuce though. I'm actually really surprised by how much I enjoyed this song after listening to it again for review. It might be my favourite song on the album.
​World On Fire (2/5) – I'm sorry, but this song sounds like generic rock song 101. Oh but I wouldn't have any problem with this song if it wasn't for the god awful verse raps by Deuce. The raps are so awful. Deuce doesn't sound at all energetic in them at all and they sound like they were written by an amateur rapper. It is that bad. I'll give this song this; I like acoustic guitar riff in the verses.
​My Buddy (2.5/5) – ​Well this sounds much more like Deuce… but I'm not that impressed by his vocal delivery on the chorus. The verses are okay. This song sounds kinda rock if you stripped back the rock a little bit, therefore giving a stripped back rock song which is not really impressive. But the bridge screams are actually top notch. Unfortunately the bridge doesn't last very long. At the end he calls you a "little doggie."
​Invincible (2.5/5) – ​​​​When a song is named after the name of the album, you expect something great, right? Well, I'm sorry to disappoint you but this song is just okay. The song just feels kinda empty. The bridge picks up the pace a bit, but then falls back down to the chorus.
​Bad Attitude (5/5) – ​Here is a true rock song. The chorus is catchy the rap in the verses are top notch. With the bridge screams shaking up the song, this song is a true highlight. I find it important to note that this song was the first track on the 2015 version of the album and it really does sound like an album starter.
​​Best of Me (3/5) – ​Here's a brand new track that, again, has boring and lazy rap verses. The singing in the chorus isn't awful, but it isn't amazing either. I would like to note that the drum breakdown has an uncanny resemblance of the theme song of "Saints Row: The Third."
​Thank You (4.5/5) – ​​​​This song brought me back to the early Hollywood Undead days when Deuce sang in songs such as "Pain" and "Circles." This one of the few songs on the album that actually tugged on my heartstrings. The only real criticism I have is that I think it has the same issue that Linkin Park's "One More Light" has, in that no drums ever come in, making the song never reach it's full potential.
​Catch Me If You Can (3.5/5) – Is this still Deuce? Of course it is, but it doesn't sound very different from the previous songs. I don't think this song is bad, but it sure makes me wonder if this song would sound better if it was sang by a different singer. It is as rock as it comes.
​It's Alright, It's OK (3.5/5) – This and "Bad Attitude" make me question if this is how Deuce original vision for the album had been. This like "Bad Attitude" is heavily rock-influenced. Unfortunately, I find this song doesn't quite hit the heights of "Bad Attitude." But compared to much of the he previous songs, this song seems like a much better song. It does have some bad ass screaming that is the best screaming on the entire album. About this song, I'd say "It's Alright, It's OK."
​Talkin' About You [feat. Gadjet] (3.5/5) – ​First rap song on the album? I'm not a big fan of Gadjet, but surprisingly after listening to the the previous tracks, hearing his voice is almost therapeutic. Deuce's chorus melody is just awful. I'm sorry, but it was just so boring. If it wasn't for Gadjet, I would have rated this song lower.
​Pull Me Under (2.5/5) – ​​​​After reaching this song, I just really wanted to listen to something else. But I couldn't, in good conscious, leave this review with so little left. This song has rock. The screams are ok. Deuce's vocals are ok but not amazing. Melodies are ok but not amazing. This song is ok but not amazing.
Track highlights: "Here I Come," "Bitch This Is It," "Gone Tomorrow, Here Today," "Bad Attitude," and "Thank You."
Worth a listen?
​Honestly, this album was quite a disappointment for me. It's got a few good songs on it, but even with those, Invincible does not even compare to Nine Lives. Deuce's vocal delivery is much weaker on this album and the songs are not as catchy. This album makes Hollywood Undead's Five album, which many fans claim to be the weakest of their albums, a masterpiece. If you're a super fan of Deuce, then I guess I can recommend this album? I honestly can't tell if you'd like it, even if you are a Deuce fan. If you're not a Deuce fan and want to listen to some of his music, I would you to listen to Nine Lives instead of this travesty.
Music Sample
Album Links