Hollywood Undead – Five (Album Review)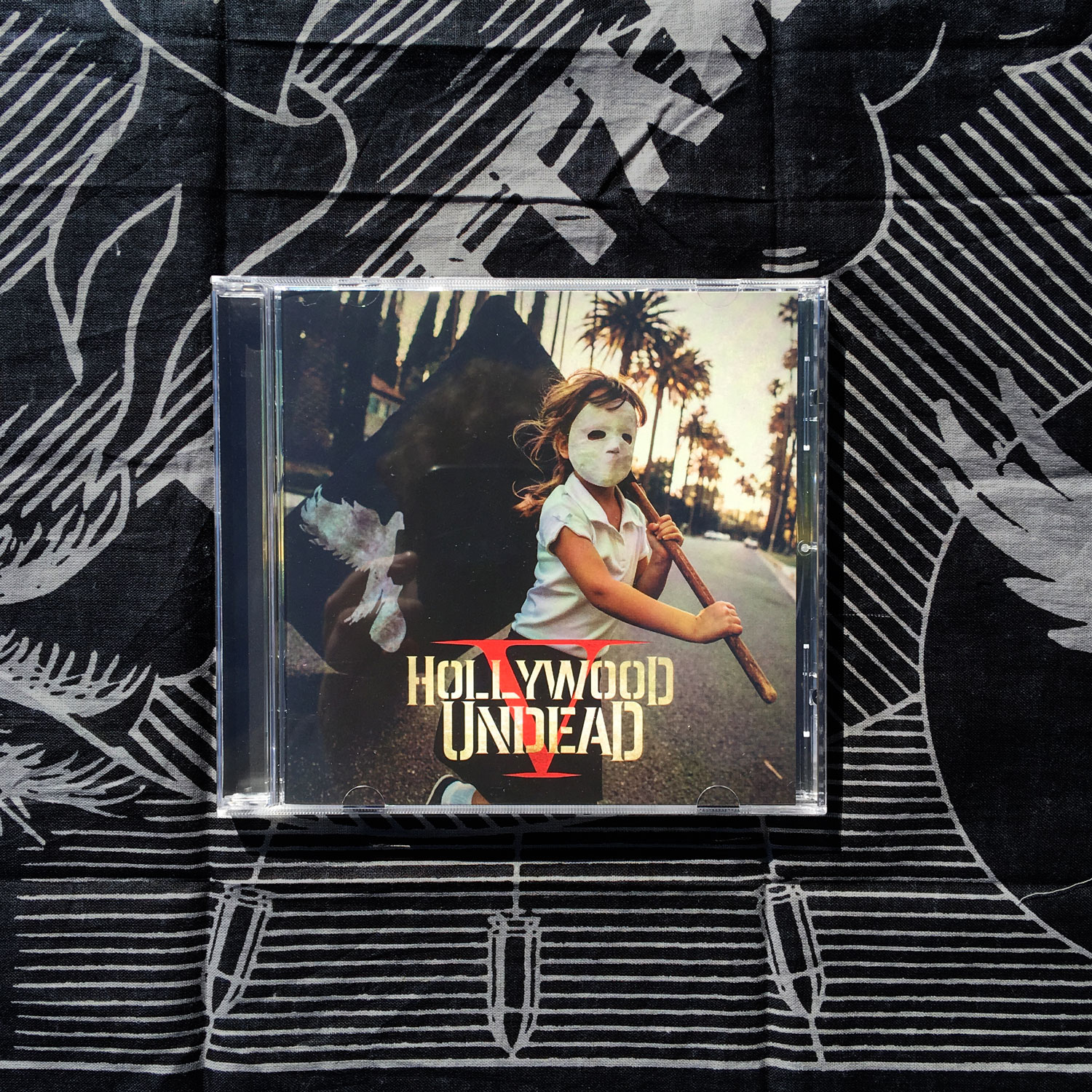 Today I am pleased to bring you a review of the fifth album by Hollywood Undead appropriately named Five released independently under exclusive license to BMG Rights Management. This is their third record label to distribute their work after Interscope Records for their last album Day of the Dead and A&M Octone for their previous works. Hollywood Undead is a rap rock band that reigns from Hollywood, unsurprisingly, in Los Angeles, California. According to Billboard, all of their previous four albums have made the top 30 of the Billboard 200, with their albums Notes from the Underground and American Tragedy making within the top 5. Also with all their albums making it within the top 10 in the Top Rock Albums. To say that this band does not have popularity would be ludicrious.
Hollywood Undead starting writing music in the early days of Myspace and have since become a sensation. They are known for their gangster affiliated lyrics mixed with party anthems laid on top of hardcore rock with occasional synths here and there. Their last album Day of the Dead made my number one for best albums of 2015, so to say I was not highly anticipating Five would be a lie. I think it is important to note that this is Hollywood Undead's first album to have a lineup change since the highly controversial departure of singer of Deuce in 2010. Five is the first album to not include the founding member Da Kurlzz who was responsible for drums and screams. So, it is not unrealistic for me to expect some change, even minor, to the band's sound.
Although Hollywood Undead's fifth album is not explicitly metal, there are some metal influences to be found in the first few singles released. There is no screaming present on Five, because of the departure of their screamer Da Kurlzz, but there are some guitar heavy songs, with rap replacing the screaming. In a way, one could label some of these songs as Nu Metal. I was pleasantly surprised after hearing the entirety of the album, for I feel that although the singles released were good songs, they are not quite the best representative of the album. I was expecting a mostly hardcore rock album from the singles when after hearing the full album I found the rest of the album to be very electronic focused.
Track-By-Track Review
​California Dreaming (5/5) – ​Being the first single released in promotion for Five, this is a great head-banger. I could easily see a metalcore band screaming on top of these guitars, but I dreading of screaming we get Hollywood Undead's rapping. Some metal heads may be left dissatisfied, but personally I feel that this further defines Hollywood Undead as a band. Overall enjoyable song, but HU fans may be taken aback a little.
​Whatever It Takes (5/5) – ​This is the Hollywood Undead I remember. This song takes a more of a rap approach with more emphasis on synths. Anytime I hear this song come on, I'm all in. The only complaint, and it's a minor one at that, would be that the "put your hands up high" hook is repeated a lot and I could see some finding it annoying.
Bad Moon (5/5) – ​I wish this was one of the singles released. This is the first song that wasn't previously released and wow, it's almost all electronic. It's also almost all singing with Charlie Scene owning much more of the singing. If there was ever a Halloween Hollywood Undead song, this would be it. Also this song features a rap by Funny Man that fits perfectly. Easily one of my favorite tracks on Five.
Ghost Beach (4/5) -​ Just because I like Hollywood Undead, did you think I would score every song perfectly? I'm a critic, not a fanboy. I actually don't mind this song all that much. This I would call Danny's song, for no one else really does vocals in this song. It's got a nice reggae-like beat which is different for HU, but I was hoping for HU not just Danny.
Broken Record (4.5/5) – ​One of my favorite songs on the album, if not my favorite. So why did I dock a half point off it's score? As much as I love the song, the transition between the verses and chorus is so drastic, that I almost thought I had accidentally skipped the song. After a few listens, the transition became less surprising, but regardless the change is quite jarring.
Nobody's Watching (3.5/5) – ​Is this song on the same album? Yes? This is the song that some fans might point to, to say HU sold out. But wait… This album was recorded independently, so that can't be the case. The chorus is the pop-iest sounding chorus and the verses sound very close to Linkin Park's "Good Goodbye." Also I never thought I'd hear gospel singers on a Hollywood Undead song. This is not a bad song; just strange for Hollywood Undead.
Renegade (5/5) – ​Here we come to the third single for Five. I like this song's guitar riffs far more than California Dreaming's riffs. When I first heard this, I was a little disappointed with the lack of Danny's singing on the track but after hearing the rest of the album, it's a small gripe. The "Man down, shots ringing out loud" part of this song is one of the best moments on the whole album.
Black Cadillac [feat. B-Real] (4/5) – ​Funny Man's chorus sounds tight. Verses sound classic Hollywood Undead. I loved the reference to one of their older songs "Bitches." The only part of this song I thought fell short was the feature of B-Real. When B-Real starts rapping, it's clear that he's not Hollywood Undead. HU's rappers are distinct, that any other rapper featured falls short, in my opinion.
​Pray [Put Em In the Dirt] (4.5/5) – ​Welcome to Johnny 3's song. "Johnny 3's gonna put you in the dirt" is a common phrase repeated in this song boasting the common "don't mess with Hollywood Undead" trope. The beginning of the song is very reminiscent of HU's previous song "Why Does Everybody In the World Have to Die" almost sounding like a sequel. I love Danny's vocals in the chorus, but I think the end of the song is a little weak.
Cashed Out (5/5) – ​Favorite song on the album. This is what Hollywood Undead would sound like if they became modern rap. Even with that said, this song has a trap beat and drop, leading some fans to think HU was imitating Skrillex. This is not going to be a favorite of fans who only like rock. But for people like me who like electronics and rap songs, they're gonna love this song. Funny Man shines on this track with this baritone party rap.
Riot (5/5) – ​Second personal favorite song on the album. This is definitely an experimental song for Hollywood Undead. This is one of the first songs that show a very blatant use of auto tune. This is the most dance orientated song on the album, if not ever. The song features a dubstep like drop which is not quite dubstep since that trend is now outdated. I found this track to be enjoyable, but I know many fans are not gonna crazy for this track.
We Own the Night (4.5/5) – ​Here we come to the fourth and final single released for the album. This song is pretty heavy with its use of guitars but with more electronics than many of the previous singles. The guitar riffs in the verses are grooving and the synths blend well. Immediately when I heard the bridge riff, I couldn't help but think it sounded very similar to Linkin Park's "Across the Line" breakdown. It may not be the same riff, but it sure sounds similar.
Bang Bang (5/5) – ​I actually wonder why this wasn't a single. This is one of the best tracks on the album. It has a trashing guitar riff that is easily head banging material. There's not much else to say about this track… It's just good.
Your Life (4/5) – ​Out of all the tracks on the album, this is the best track to close the album. Compared to HU's other albums, this song is a little weak. This has got that rock rap down to a T, but at the same time it seems pretty safe. I could tell this was meant to be the emotional song on the album but compared to previous album closers like "Save Me," this song falls a little short.
Track highlights: "California Dreaming," "Whatever It Takes," "Bad Moon," "Renegade," "Cashed Out," "We Own the Night," and "Bang Bang."
Worth a listen?
​Yes, yes and yes. I mean, Five is definitely going to be on my list for best albums of 2017. I could understand, if you don't like rap or full electronic songs, why you might not like this album. I would say that if you like genre experimentation on every song on an album, it can't hurt to at least take a listen to this album. I do not think it is the best Hollywood Undead album but it still is quite an enjoyable album.
Music Sample
Album Links